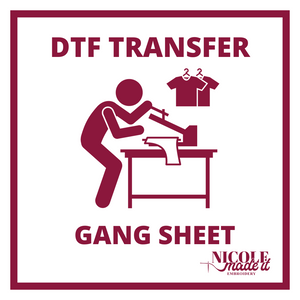 WHAT IS DTF?
The direct to film technique is printing designs directly onto a special film. The film is then transferred onto the fabric using a heat press. This method allows for detailed and vibrant designs on various types of fabrics. 
HOW DO I PLACE MY ORDER?
You can place your order by building the gang sheet within your own design software. Please make sure the resolution is 300DPI, in png formant, and a transparent background. Choose the height from the drop down menu. Upload the files and proceed to checkout. 
 If you don't have software, feel free to use our gang sheet builder. Be sure to choose the correct size from the drop down menu.
DTF turn around time is 3 business days.
WARNING- WE DO NOT ALTER GANG SHEETS. THEY WILL BE PRINTED AS IS. PLEASE MAKE SURE EVERYTHING IS IN THE CORRECT FORMAT BEFORE SUBMITTING.